Moonlight Intruders (A-6)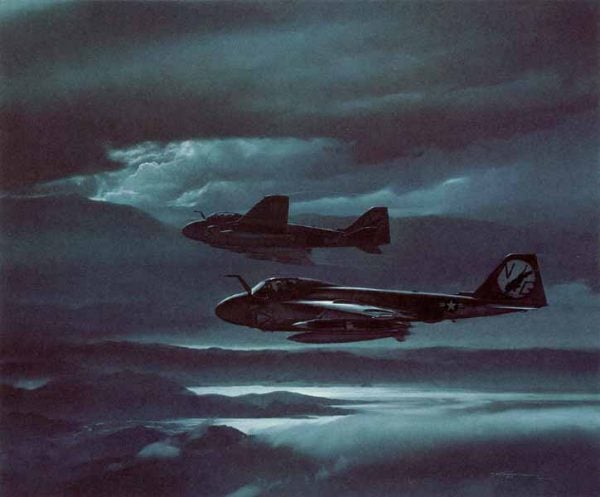 Two Grumman A-6A Intruders take off from the U.S.S. Enterprise and head for North Vietnam. These flyers, from Attack Squadron VA-35, are called the Black Panthers. Tonight they're on the prowl.
As the aircraft draw near the coast, they douse navigation lights and rotating beacons. They also turn off their radar identifier, signalling the home carrier that they've reached the coast. Using sophisticated track and search radar systems, the bombardier/navigator guides the Intruders to their ground target.
"Stephen Coonts's book, Flight of the Intruder, inspired me to paint the A-6A," says Craig Kodera. "On this night in 1968, tropical rain has given way to moonlight. Capable of operating at night and in all weather conditions, the A-6A faces enemy guns and SAMs. Time and again, the A-6 series proved indispensable to Naval Air Tactics."
Moonlight Intruders (A-6)
Craig Kodera
(-51%)
This Piece has been Signed by Craig Kodera