Morning Glory – Bald Eagle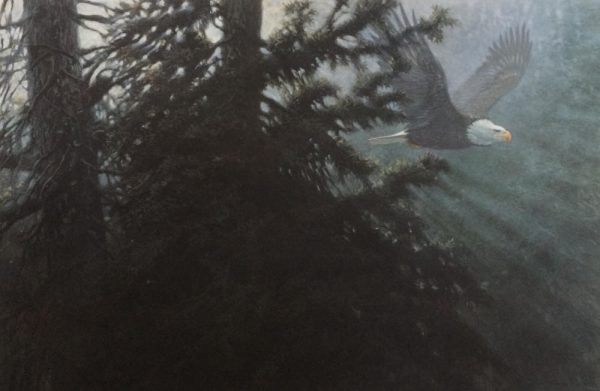 The silent majesty of a bald eagle flying through a northern forest as the morning sun filters in is unequalled. The bald eagle is the most regal of North American birds, and, as a symbol of North American freedom, it is also, perhaps, the most often painted. For this reason, it becomes very challenging for the artist to present the bald eagle in a different and interesting way.
I have stood among the spruce trees of Alaska many times and have seen bald eagles silently flying from roost to roost. This is one of the most heart-stopping sights of the North Woods - one which I wanted to recreate in paint. In "Morning Glory", I hope I have captured the atmosphere of such a sighting.
- John Seerey-Lester
Morning Glory – Bald Eagle
John Seerey-Lester
(-58%)
This Piece has been Signed by John Seerey-Lester