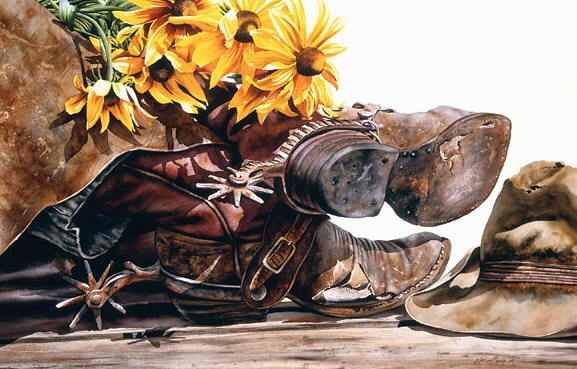 A cowboy sits on the porch at the end of a long day of hard work. His boots are scuffed and his feet are tired, but he doesn't feel a thing—tonight his girl comes home. In preparation for her arrival, he has removed his hat and picked her a fresh bunch of Black-Eyed Susans. She may not come for hours but the cowboy is content to sit, sure in the knowledge that soon she will be home.
With My Girl's Coming Home, artist Nelson Boren has created a gentle, open-ended moment. "I try to tell stories without telling the story," he says, "and let the viewer decide the ending." His careful rendering of every texture in the painting, from the time-worn leather of the cowboy's chaps to the fuzzy brown centers of the flowers, imparts a classic romance to a truly classic Western scene.
This MasterWork™ Giclée printed on Hahnemuhle German etching paper, deckeled on all sides, will tell a larger than life size cowboy story in any room.
My Girl's Coming Home
Nelson Boren
This Piece has been Signed by Nelson Boren