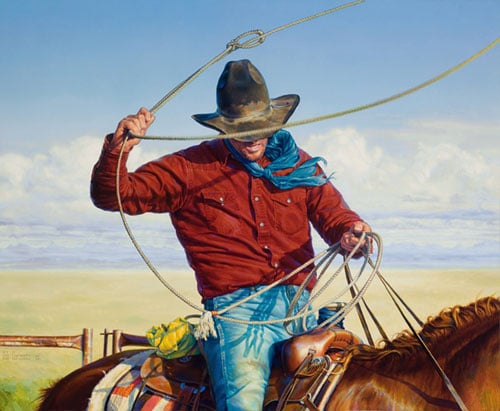 "In the northeast corner of Wyoming on the Montana border, the ranches are big, the grass is plentiful and the country is rough," says artist Bob Coronato of No Place … For Amateurs! "With few people for hundreds of miles, this is perfect cowboy country for the tough, spirited, pioneer types who call it home. A few years ago, I was on a brand crew traveling with a chuck wagon, a rumuda of horses and bed roll wagon. Gathering 10,000 acre pastures and branding about 300 cows a day for about 12 days straight, we woke before dawn and worked until dark, moving camp each time we finished gathering all the stock within a days ride. With the Montana Badlands in the distance, we were working the open country, gathering the livestock for branding and building temporary corrals. Weather describes the high plains best: In the morning you had on winter coats, long johns and silk scarves to wrap your neck from the wind, by the end of the day, it usually rained or snowed at least once and then by late afternoon it was hot enough for short sleeves. Only the toughest spirit enjoys this climate and the cowboys I was working with not only thrived in it, but were some of the best hands I'd ever had the privilege to work with.
Over the two week stretch there were a few bad wrecks and the usual close calls. One guy got bucked off and broke his arm. I drove him 100 miles to the Cowboy Back Bar for a shot before going down the road to the hospital. On the way back to camp, we stopped at the Stoneville Saloon ("Cheap Drinks and Lousy Food" reads the sign outside). By the next day he figured he healed up enough to get back to work and by afternoon he was roping calves on horseback in his cast.
I use times like those days on the brand crew, to add the grit and character to my art, that only living the life can inspire. Into the second week, I was working with Mark, who we all knew as "Gootz", roping and dragging calves when, for a split second, I saw the image I knew I had to paint. A vision that perfectly captured the spirit and freedom of the cowboys who work the high plains rough country—a place they call home."
No Place… For Amateurs!
Bob Coronato
This Piece has been Signed by Bob Coronato