Offerings to the Spirit in the Falls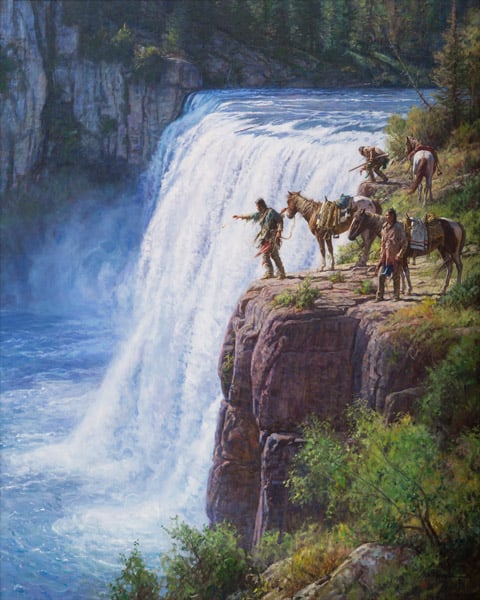 Whether painting the Native Americans in a dramatic, picturesque setting, or the American cowboy in the dusty cattle-working pens, Martin Grelle captures the spirit, beauty, and vastness of the West in his historically-accurate, compelling images. Grelle studies diligently to portray the diverse cultures of the American West accurately and with sensitivity. His knowledge of the cowboy's way of life, gained from his time spent horseback on ranches during the annual Cowboy Artists of America's (CAA) trail ride, as well as the time spent with local ranchers and friends, is evident in his contemporary cowboy paintings. The many hours spent in museums, at historical re-enactments, in visiting with experts on Native American culture, and reading from his extensive library, have helped him to bring his vision of the Plains Indian culture to life on canvas.
Grelle was born when his family lived on a small farm a few miles from the small, Central Texas town of Clifton, which he still calls home today. This beautiful and historic area has become a mecca for artists, including many of Grelle's close friends. They all enjoy getting together to "talk art", critique each other's work, and exchange ideas. Many of them, including Grelle, teach annual workshops through a local art facility known as the Bosque Conservatory, which has begun to have a national presence. Grelle treasures this feeling of community and the opportunities he is afforded living in such a creative environment.
The artist's talents were evident as a child and he began painting at an early age. Luckily for the budding painter, acclaimed Western artists James Boren and Melvin Warren had settled in the same area while he was in school. With excellent guidance from James Boren, a full-time artist was born in his early twenties. Since then, Grelle has studied and traveled widely to seek subject matter for his work. Working primarily in oils on canvas, the artist's figures and landscape become one in a painterly style rich in vibrant color and narrative.
For more than 30 years Grelle has made a career of his art, and has won awards of both regional and national importance. In 1995, he was elected to the Cowboy Artists of America, and he is one of the younger active members. He is currently serving his second term on the board of directors for that organization, and participates in the Annual CAA Exhibition and Sale at the Phoenix Art Museum each October. Grelle won the CAA People's Choice Award in 2002, for his painting Monarchs of the North, and the Ray Swanson Memorial Award in 2008, for his painting Newlyweds. He has also been privileged to participate in other major juried shows across the United States. Included in that list are the Prix de West Invitational Art Exhibition and Sale at the National Cowboy & Western Heritage Museum, which he has participated in each year since 1995, the Masters of the American West Fine Art Exhibition & Sale at the Autry National Center, and the inaugural Quest for the West Exhibition & Sale at the Eiteljorg Museum. Awards of merit include the Prix de West Purchase Award, which he won in 2002 for his painting Teller of Tales, and again in 2005, for his painting Two Coups, making him one of only 6 artists to have won the top award twice. Grelle has also won twice the Nona Jean Hulsey Ramsey Buyer's Choice Award at Prix de West, first in 2004 with Signs Along the Snake, and again in 2006, for Dust in the Distance. The artist is represented by Overland Gallery of Fine Art, in Scottsdale, Arizona, where a one-man show is held for Grelle each March. The 2008 show marked Grelle's 20th anniversary one-man show with the gallery.
The artist has been profiled in a number of publications, including the magazines Art of the West, Western Art Collector, Southwest Art, Western Art & Architecture, Persimmon Hill, American Cowboy, Western Horseman, Wild West, and InformArt. His work has also been showcased on the covers of many of these publications. Grelle says humbly, "I thank God for the ability and the opportunities He has given me, and I hope I can continue to grow and learn more with each finished painting. I am honored by everyone who collects my work, and I will always strive to create artwork worthy of their attention, and their investment."
Offerings to the Spirit in the Falls
Martin Grelle
This Piece has been Signed by Martin Grelle