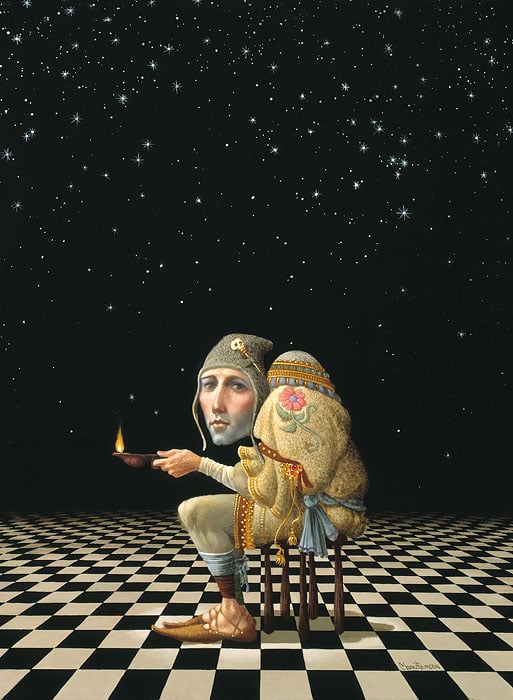 CONDITION NOTES:
This piece may have some minor issues due to age and handling. That's why we call it "Imperfect." It is in excellent condition. When framed it will look perfect.
For a more detailed explanation of the condition, feel free to call us toll-free at 1-877-444-0777 or 1-440-354-7002. We're always happy to examine the piece while you're on the phone with us and explain our sightings in extreme detail.
Imperfect items are ALWAYS a fantastic deal for collectors!
---
"This is a quiet little painting that I quite like... for a variety of reasons. First, technically, because of the way the checkerboard goes back, fading into infinity rather than ending in a sharp line at the horizon. The checkerboard itself, of course, symbolizes the light and the dark, the night and the day, the good and bad - the opposites of life, so I hope it's fitting that I used a spacious approach to the painting."
This guy, even with his hump and imperfections, isn't afraid to let his light shine. There's a flower on his shoulder and a skull pin in his hat. One thing is for sure, however, we only have a limited time here. We're candles in the darkness for each other, so it's important to let your light shine, no matter how small it is. - James Christensen
One Light
James Christensen
This Piece has been Signed by James Christensen