One to One – Gray Wolf (Imperfect)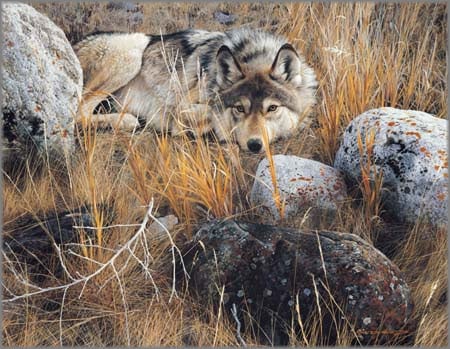 CONDITION NOTES:
This piece may have some minor issues due to age and handling. That's why we call it "Imperfect." It is in excellent condition. When framed it will look perfect.
For a more detailed explanation of the condition, feel free to call us toll-free at 1-877-444-0777 or 1-440-354-7002. We're always happy to examine the piece while you're on the phone with us and explain our sightings in extreme detail.
Imperfect items are ALWAYS a fantastic deal for collectors!
---
I have had many different ideas in my head about painting that wonderful, mysterious creature, the wolf. Because Yellowstone and the wolf have a special place in my heart, I got the idea to combine both in a painting.
On one of my trips to Yellowstone, I followed a coyote, the smaller cousin of the wolf, for a long distance, and he brought me to one of the most beautiful places I had ever seen in the park. The harmony of the dry grasses and the different colored rocks, from blacks to blues, excited me. Places such as this inspire me a great deal, and I am very grateful that the coyote brought me there. The coyote's colors, very similar to those of the wolf, fit well into this nice scenery, so I hope the coyote will not be jealous that I painted a wolf instead. For me, it is a wonderful experience to be able to get inspiration from such an encounter in the wilderness.
- Carl Brenders
One to One – Gray Wolf (Imperfect)
Carl Brenders
(-73%)
This Piece has been Signed by Carl Brenders