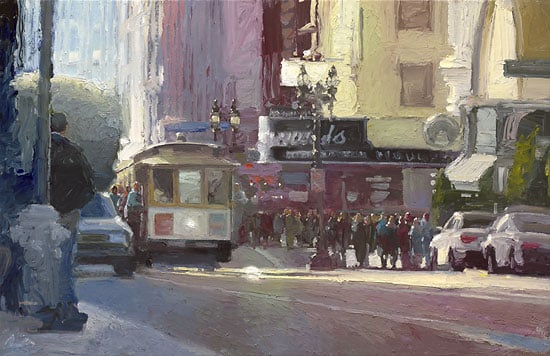 From the roar of enormous ocean waves to the din of a restaurant kitchen, from the wind through grass to the waves lapping against a shoreline, artist Ken Auster has taken viewers around a world of experiences with his paintings.
Ken Auster's painting style combines the masterful use of color with an economy of brushwork. With his new work, he takes his expressive painting style one step further and painted with his fingers. "Sometimes the brush comes between me and the painting," says Ken. "So I eliminated the brush."
As the sun sets on the West Coast, the brightly-colored houses, sidewalk cafés and cable cars are flooded with warm rays of sunshine. Whether you've lived in San Francisco your whole life or have always wanted to visit, The Other Side of the Tracks will transport you there.
Other Side of the Tracks
Ken Auster
This Piece has been Signed by Ken Auster