Out of the Shadows (Imperfect)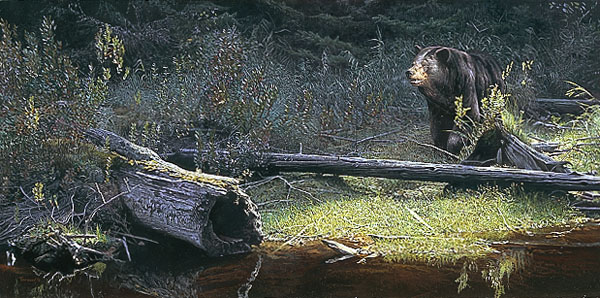 CONDITION NOTES:
This piece may have some minor issues due to age and handling. That's why we call it "Imperfect." It is in excellent condition. When framed it will look perfect.
For a more detailed explanation of the condition, feel free to call us toll-free at 1-877-444-0777 or 1-440-354-7002. We're always happy to examine the piece while you're on the phone with us and explain our sightings in extreme detail.
Imperfect items are ALWAYS a fantastic deal for collectors!
---
"This is the edge of a beaver dam in Algonquin Park, Central Ontario and it is autumn. The water had been backed up but over the summer it's come back down so you've got fresh, green grass growing on the shoreline. The setting was good and I really liked the lighting which set the mood of the piece.
"I wanted to paint an animal which suited both the location and the lighting. I realized that a black bear would be challenging and appropriate. It looks like they are camouflaged in the darkness but they take on interesting hues in the light. You are dealing with an animal who is totally black so the qualities of the fur are brought out by reflective light or sunlight - that is the only way to bring character or definition to the animal. Otherwise, it just looks like a big lump of black. But if you place it in the sunlight at just the right angle, you will see all these colors that you wouldn't normally see."
Out of the Shadows (Imperfect)
Brent Townsend
(-72%)
This Piece has been Signed by Brent Townsend