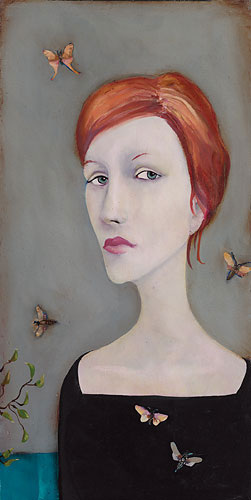 Cassandra Barney evokes the emotions of the viewer through her frank, compelling portraits of the "muses" of our daily lives, with their soft, gentle eloquence and mysterious beauty.
Courting Pandora, Barney's recent show of original paintings, was based on the female archetype of Pandora who, according to legend, could not resist opening a mysterious box which unleashed evil on earth (but also contained "hope"). "I don't feel that Pandora was tricked into, or was naively curious about opening that box," says Barney. "Remember, she was the culmination of all the gods' gifts to man and not just some passive beauty. I think she intentionally brought the balance of good and evil into the world.
The elusive butterflies that flutter about Pandora, Etta and Ramona whisper of the women's passions, hopes and fears, inviting you into their intimate reflections. Displayed on their own, or combined with Cassandra's other works, these distinctive gems capture the simple eloquence of life's many moods.
Pandora
Cassandra Barney
This Piece has been Signed by Cassandra Barney