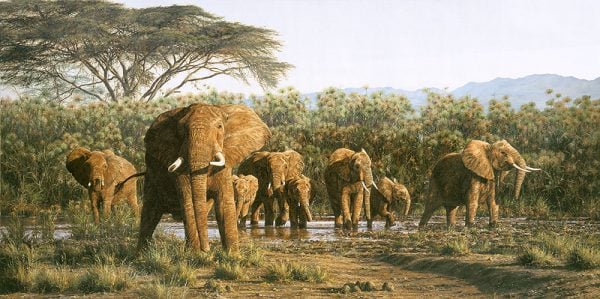 Once part of the Great Southern Game Reserve, Amboseli National Park was one of Kenya's earliest game sanctuaries and is now its most visited park. Towering above Amboseli is Africa's highest mountain, Mount Kilimanjaro whose snow melt feeds underground springs which provide permanent water sources in an otherwise dry landscape.
As any wildlife observer knows, a permanent water source attracts large concentrations of birds and animals. The springs support huge fields of papyrus swamps where herds of elephants can often be found half-submerged enjoying the liquid refreshment as well as the chance to lower their body temperatures.
Artist Simon Combes knew this territory better than most and "Papyrus Swamp Monarchs" is a portrait of much that he loved and worked to preserve. The acacia tree completes the perfect composition in an elegant horizontal format.
Papyrus Swamp Monarchs
Simon Combes