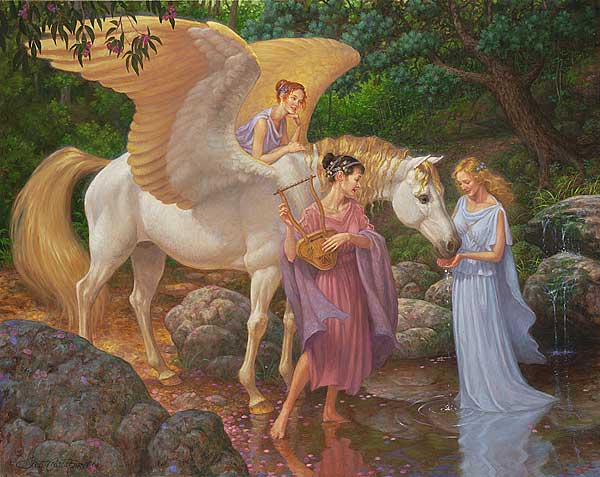 Scott Gustafson's art is filled with characters, myths and fables many of us met in our childhoods. Pegasus and the Muses is an enchanting interpretation of a Greek legend. Athena, the Godess of Wisdom, was the first to discover the winged stallion Pegasus, who was the son of Medusa and Poseidon. Athena tamed the horse, and gave him to the Muses of Mt. Helicon as a gift.
In his excitement at meeting the Muses, Pegasus struck the side of the mountain with his hooves, which caused water to well up and form a spring that would become known as the Hippocrene. Springs were sacred sources of inspiration for those who sought help from the Muses. If they were truly fortunate, perhaps they would also be allowed to soar through the clouds on the Muses' beloved pet, Pegasus.
As the flying horse of the Muses, Pegasus is a symbol of high-flying poetic imagination. Following in Gustafson's tradition of The Maiden and the Unicorn and The Pirate and the Mermaid, the artist's Pegasus and the Muses will undoubtedly inspire flights of fancy for collectors young and old.
Pegasus and the Muses
Scott Gustafson
This Piece has been Signed by Scott Gustafson