Pintails and Sour Dock – 1990 Washington Duck Stamp Print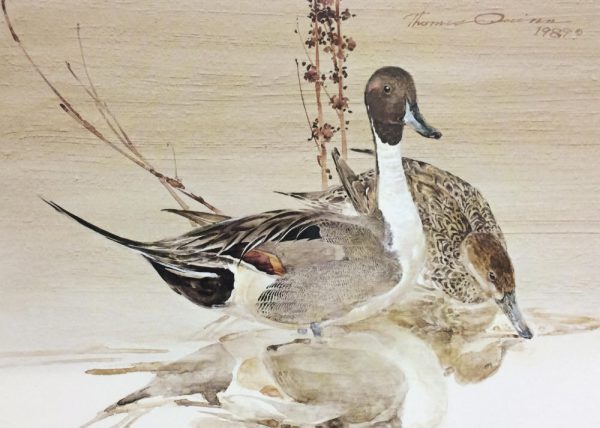 A brown, speckled hen, with elegant neck and little chevrons along her flanks, swiftly dips in flight; she banks now, then climbs. Wing tip close, shadowing every shift, are eight dashing and reckless drakes - suitors, plumed in splendid tuxedos, jostling for favor.
Long have I watched and admired pintails. I realize that I am not alone. As a child, I was told that millions graced the Pacific Flyaway. Now a small fraction remains, and we are certainly diminished. As I remember these birds, I can see pair after pair dotted on quaking green sponges of Yukon muskeg, great arrogant feeder flights massing in wheat fields along the Snake and Columbia Rivers and tired pilgrims lost in thick, pearly fog above the Butte Sink in the Sacramento Valley. I see them maple-leafing, tumbling down thousands of feet of sky in zany, avian delight, wings tearing and throttling the still desert air, their tautness and wariness dissolving amid the Mexican mesquite and yucca spikes into the glories of courtship.
She leads, like the mysterious salmon seeking its source stream, clairvoyantly guiding the way north to the very pond where she was hatched. Her drake follows. Will that magical place be scraped into a parking lot? Will their bower be plowed under?
- Thomas Quinn
Pintails and Sour Dock – 1990 Washington Duck Stamp Print
Thomas Quinn
(-51%)
This Piece has been Signed by Thomas Quinn