Proud Mama – Polar Bears (Imperfect)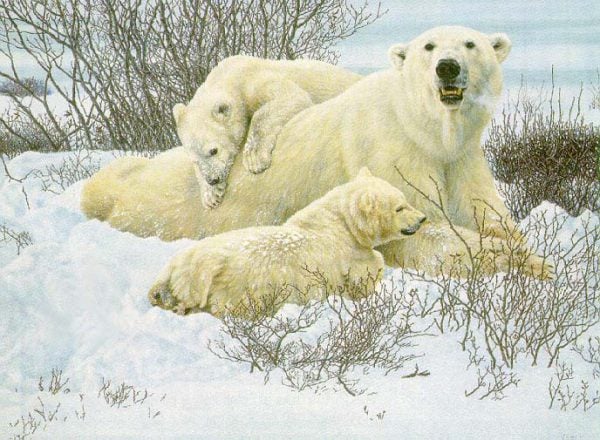 CONDITION NOTES:
This piece may have some minor issues due to age and handling. That's why we call it "Imperfect." It is in excellent condition. When framed it will look perfect.
For a more detailed explanation of the condition, feel free to call us toll-free at 1-877-444-0777 or 1-440-354-7002. We're always happy to examine the piece while you're on the phone with us and explain our sightings in extreme detail.
Imperfect items are ALWAYS a fantastic deal for collectors!
---
As the returning sun gathers strength amid the northern snows, so, too, do these four-month-old polar bear cubs. Nestled by a screen of stunted tundral willows, they tumble and play, building the strength and coordination of their young limbs.
The gentleness and patience of their mother, who, at times, finds herself being used as a living playground, greatly contrasts with the mighty strength that can kill a 200-pound seal with one blow of a forepaw.
- Audrey Casey
Proud Mama – Polar Bears (Imperfect)
Audrey Casey
(-60%)
This Piece has been Signed by Audrey Casey