Rockland Breakwater Light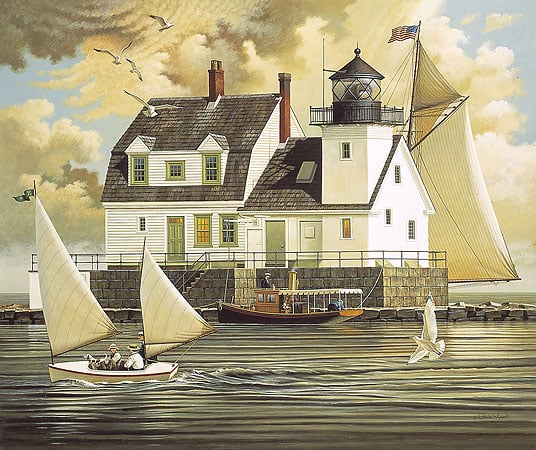 The first aid to navigation was most likely a fire set on a hillside to guide some late arriving fishermen back to their home port. For centuries, the lighthouse has found a home on the outer limits of the coast, bays and rivers. Lighthouses are noble human achievements. Regarding lighthouses, Charles said "They are unique expressions of human creativity. Physically, they represent triumphant solutions to complex engineering probles. Emotionally, they exemplify drama, peril, rescue, poetry and artistry."
So join him now at Rockland Breakwater Light, where warmth glows from every window. A grand, flag-topped ship is anchored behind, its passengers sharing good talk and good times within. Outside, a two-boy boat courses by, ready for a day of fresh sailing. There's a palpable sense of adventure in the air as all leave their on-shore worries behind in the knowledge that there is something watching over them.
This lighthouse is on Rockland and Breakwater in Maine.
Rockland Breakwater Light
Charles Wysocki
(-51%)
This Piece has been Signed by Charles Wysocki