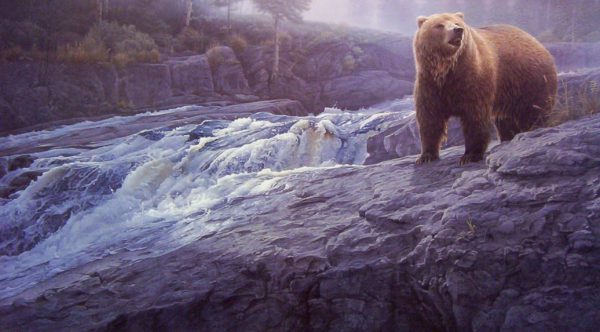 "What I try to share with the viewer is a mood. I want people to experience the peace and tranquility of the wilderness, of being the only one out there, communing with nature. I really do get a lot of joy out of what I do, being able to share with others my passion for the natural world through my artwork" - Daniel Smith
"The sun is just beginning to burn off the early morning mist. The warmth of late summer is gradually giving way as changes signal autumn's approach. In preparation, the grizzly has been fishing to fatten himself up for hibernation."
"The grizzly, or brown bear, was admired for its strength and tenacity by Native Americans, but its numbers declined greatly in the 1800's, as settlers and livestock expanded westward. A formidable presence, the powerful grizzly is a monument to survival, like the stone on which he stands. Here, centuries of cascading mountain water have sculpted the granite into a natural art form. This was my biggest challenge in this painting - capturing the essence of that white, churning water."
Rocky Cascade
Daniel Smith
(-47%)
This Piece has been Signed by Daniel Smith