Rogers' Rangers Toward Ticonderoga, 1759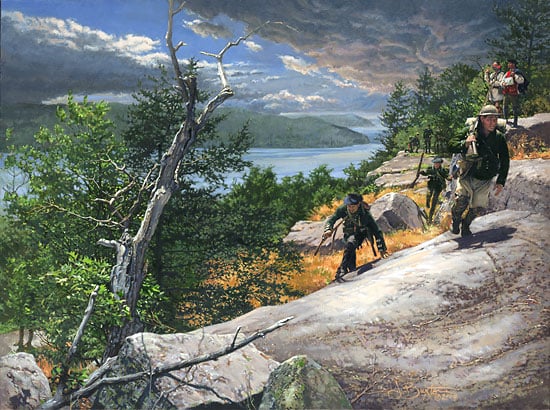 If the enemy pursue your rear, take a circle till you come to your own tracks, and there form an ambush to receive them, and give them the first fire.
If your number be small, march in a single file, keeping at such a distance from each other as to prevent one shot from killing two men.
These are just two of a list of fighting techniques and methods known as Rogers' Ranging Rules, compiled by Robert Rogers in the mid-1750s. Many of his tactics are still practiced by the US Army today.
In this painting by John Buxton, it is the summer of 1759, and France and Great Britain are locked in their final struggle for supremacy in North America. A scouting party led by the famous Robert Rogers pauses atop Mount Pelee, overlooking Lake George, on its way to observe French activity at Fort Ticonderoga. British General Jeffrey Amherst relies heavily on intelligence provided by his intrepid American Rangers as he prepares his offensive against the French.
Once the Rangers' proficiency was recognized, they became Independent Companies on the Regular British Establishment, and they were paid for by the Crown. Their dress was a distinctive combination of military, frontier, and native styles, and they practiced then-unconventional tactics. The Rangers are accompanied by Royal Artillery Lieutenant Thomas Davies, whose artistic efforts left us a valuable record of colonial America. A member of Rogers' Stockbridge Indian Companies accompanied him in this mission. He was subject to Ranger discipline, but wore native dress and served under his own Indian officers.
Rogers' Rangers Toward Ticonderoga, 1759
John Buxton
This Piece has been Signed by John Buxton