Snow White and the Seven Dwarves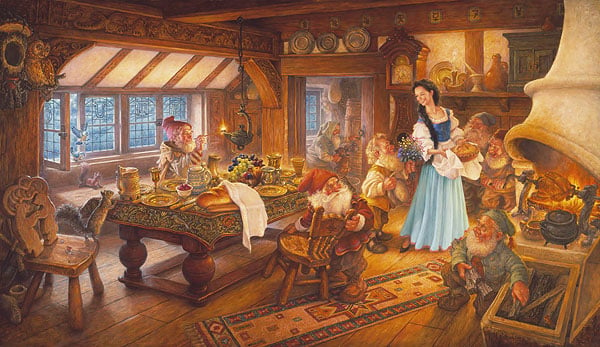 Rather than reference the many popular culture versions of this story, artist Scott Gustafson went back to the original story - a folk tale from the collection of the brothers Grimm - to create this spectacular painting of Snow White in the home of the seven dwarfs.
"When I reread the original fairy tale, it was like meeting old friends," Gustafson says. "I felt a temptation to put the dwarves in elaborate, individual costumes, but I resisted it, because in the story they don't have distinguishing names and characteristics. Since their daily work was mining, their house has elements of metal including the heavy plates and utensils - plus, the alchemic symbols for copper and tin worked across the upper beam in the background. You can practically hear the delightful sounds of music and nature as Snow White and the seven dwarves celebrate the simple pleasures of preparing supper together."
Snow White and the Seven Dwarves
Scott Gustafson
(-47%)
This Piece has been Signed by Scott Gustafson