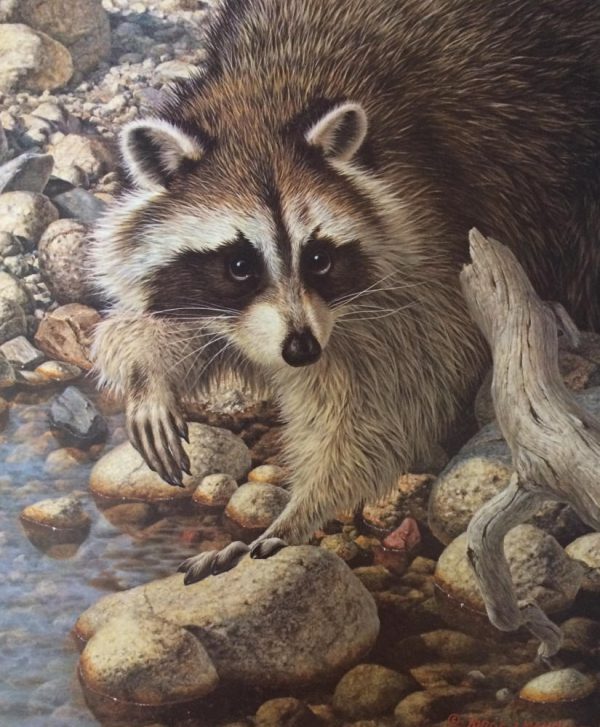 Its curiousity, intelligence, dexterity and wide geographic distribution have made the raccoon one of the best known and most popular mammals in the United States. It is a common sight throughout the United States (except in the Rocky Mountains and the desert areas) and in southern Canada; the raccoon has even reached as far as panama. There are various subspecies of raccoon, some of which are to be found in South America.
This small, nocturnal creature is omnivorous; everything seems to fit its menu, including fruits, nuts, small mammals, eggs, etc. The fact that it welcomes all types of foods has enabled it to steadily spread its range. The raccoon has highly developed sensitivity in its hands and maneuvers its fingers with great dexterity. It does not hibernate. Breeding in protected dens, raccoons produce litters of four to five young in March or April. Raccoons appear to wash their food, but in fact they only knead and tear at it to check for matter that should be rejected.
A common part of the country landscapes, the raccoon has given almost everyone a chance to have a look at its chubby silhouette, to have a night call at their garbage cans or perhaps to have to cancel a camping weekend when returning from a hike to discover that their tent has been emptied.
- Jorge Mayol
Summer Evening – Raccoon
Jorge Mayol
(-46%)
This Piece has been Signed by Jorge Mayol