Sunrise in the Golden Gate, Down Easter Benjamin Packard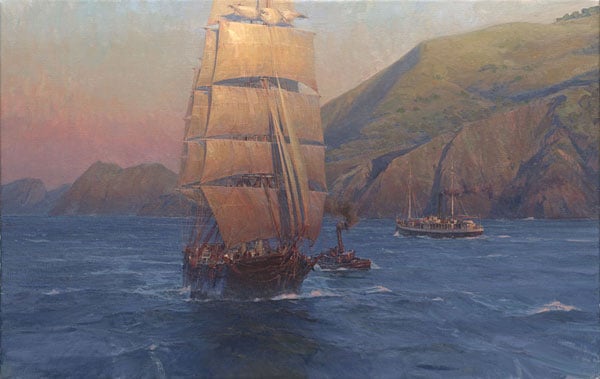 Winner of the 2010 Prix De West Purchase Award!
The top honor at the Prix de West art exhibition and sale, hosted by the National Cowboy and Heritage Museum, is the Prix de West Purchase Award, the work chosen to be purchased for the Museum's permanent collection. It is one of the most coveted prizes in the field today. Christopher Blossom's Sunrise in the Golden Gate; Down Easter "Benjamin F. Packard" was selected for the award from a field of 110 of the country's finest artists who presented 346 paintings at this year's show. Past winners of this award include Howard Terpning,® Morgan Weistling, Curt Walters, Tom Lovell, Wilson Hurley, Tucker Smith and James Reynolds. Now you can own one of the few large-format Masterwork™ Fine Art Giclée Canvases of this award-winning image.
A Greenwich Workshop artist since 1983, Chris is the most highly regarded and collected maritime artist painting today. A work of Christopher Blossom's fine art is considered the height of craftsmanship in maritime art. In his 21 years of participation in the Prix De West, Chris Blossom has three times been chosen by his fellow artists for the Robert Lougheed Award. His bold design and impeccable rendering capture the mood and mystical experience of men at sea.
Sunrise in the Golden Gate, Down Easter Benjamin Packard
Christopher Blossom
This Piece has been Signed by Christopher Blossom