The Art of Bev Doolittle – Book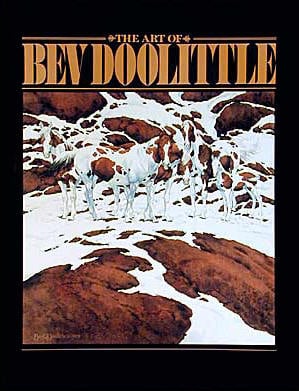 "The Art of Bev Doolittle" defines the career of one oof the most astonishing artists of our time. A master of the art of hidden imagery, Bev Doolittle's paintings are crowded with detail and rich with layered presences, seen and unseen. A fine-art phenomenon in the limited edition print world, Bev Doolittle's edition sell-out rates are unsurpassed in the industry.
"The Art of Bev Doolittle" hardcover has sold over 430,000 copies since it release in 1990. This is the definitive collection of the artist's published prints and paintings as well as sketches, color studies and photographs. More than 100 full-color images challenge both the eye and the mind and encourage the viewer to look beyond what is seen at first glance. Doolittle's unique vision and talent combine to create images that invite the viewer to enter her world. Her subject matter is primarily wilderness, wildlife and the spirit of the Native American Indians. Her medium is a technically difficult, dry watercolor technique. Doolittle changes the experience of seeing through her use of hidden imagery, using camouflage as a technique to slow down the viewing process. It is impossible to view a Doolittle painting passively. Filled with visual surprises, the artist's messages are never hidden, they are merely elusive. One is drawn in to speculate, to wonder and to explore the power of the myth and the meaning behind the beauty and composition of her painting.
160 Pages
The Art of Bev Doolittle – Book
Bev Doolittle
(-24%)
This Book has been Signed by Bev Doolittle