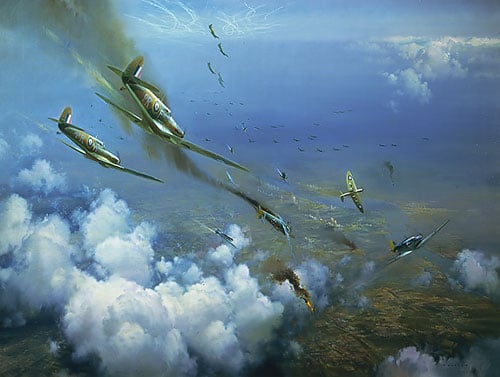 The Battle of Britain lasted officially from July 1 to October 31, 1940. This painting depicts a scene over the east of London on September 15, the Sunday when the battle was won.
The first enemy patrols arrived just after 9 a.m. sighted from the straits of Dover and the Thames Estuary to Lympne and Dungeness. The force was comprised of hundreds of bombers escorted by ME 109s. Soon, the air over southeast England became one colossal battlefield. Sixteen squadrons of RAF fighters from 11 Group, followed by five each from 10 and 12 groups, took off to engage the enemy. The German pilots could be heard called to each other over their radios, "Achtung, Schpitfeur!"
The Spitfires in the upper left in the picture are from the 609 Squadron and are led by S/Ldr Michael Robinson (killed in action the following year). He is diving to assist the pilot who has put his Spitfire in a tight turn to escape the Me 109s on his tail.
Bombs are falling on the outskirts of London from waves of bombers at different heights. Top center, 257 Squadron, led by Bob Stanford-Tuck, is diving to attack.
Different phases of the battle continued throughout the day. Winston Churchill, asking what figher reserves were available, was told, "There are none." But by 5 p.m. the tide had turned and it became obvious that the German thrust was broken and an estimated 185 of their aircraft lost on that single day.
The Battle of Britain
Frank Wootton
This Piece has been Signed by Frank Wootton