The Celebration – Noah's Ark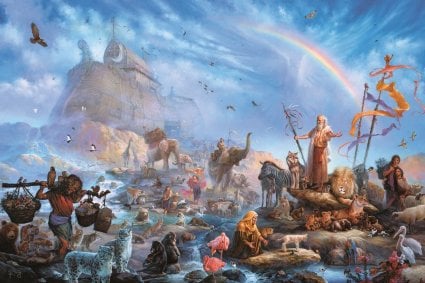 Noah, his family and his charges alike are delighted to exit their floating home and make way into the freedom of a world washed clean. Gazelle's leap, bears swim, birds test their wings and baby animals abound - representing the rebirth of man and beast. The dove hovers seemingly protecting everyone and everything that was saved.
As is his habit, Tom duBois created all costuming and spent endless hours photographing animals and landscape features. In addition, he traveled in Israel for several weeks in preparation for this and future paintings.
The Celebration – Noah's Ark
Tom duBois
(-43%)
This Piece has been Signed by Tom duBois