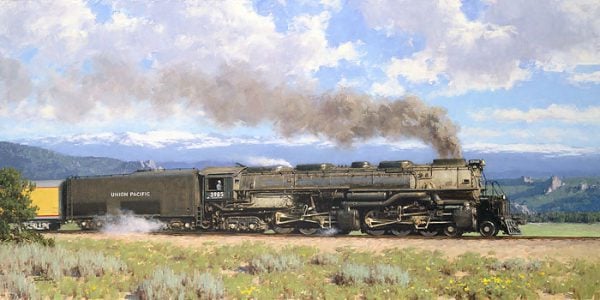 The Challenger was the largest, heaviest and most powerful articulated passenger locomotive ever built. Based on the design for a successful freight engine, The Challenger was used by the Union Pacific Railroad during the 1940's and 1950's. With the power of its engine and its 67-inch-diameter driving wheels, it was able to negotiate the steep grades of the passes through the Rocky Mountains and achieve the speed necessary for express passenger service.
This painting is set at the top of Sherman Hill, between Cheyenne and Laramie, Wyoming, at an elevation of about 8000 feet. In the background are the Rocky Mountains of Colorado. The train picture shows the yellow scheme the Union Pacific used for its passenger cars during the 1950's.
The purpose of this painting is to demonstrate speed and movement. That feeling is more important than the minute details. You can see every nut and bolt only when the locomotive is motionless, not when it's racing past you.
- Tucker Smith
The Challenger
Tucker Smith
This Piece has been Signed by Tucker Smith