The Emperors' Ball – Penguins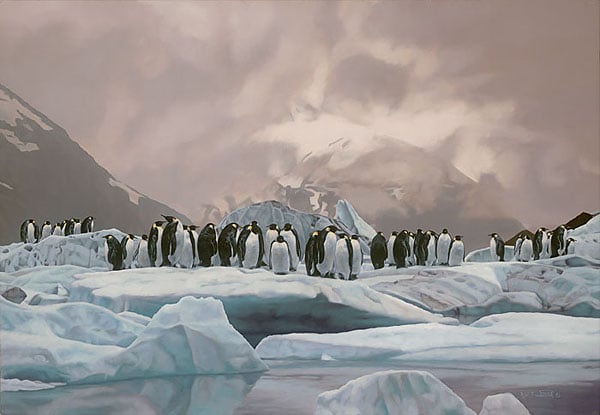 "I'm surprised that 45 penguins made it into 'The Emperors' Ball,'" Rod Frederick acknowledges, "but it seemed like every time I came back to the easel, another had shown up. That's the tricky thing about flightless birds, they waddle in low so you don't see them coming.
"Emperor penguins, in fact all penguins, live in the Southern Hemisphere. A flightless bird of this size could never have developed in the Arctic with hunters such as polar bears, foxes and wolves. But Emperors thrive in the Antarctic where there are no four-legged predators.
"People love penguins and today I find myself especially attracted to them. I don't fly or jump as high as I used to on the basketball court, so maybe that's it. But there is something special about them. Think about, the guys, just the guys, who stay home to watch the eggs over a long dark winter where the temperature can fall to -40, while the girls enjoy a two-month long ladies night out. I bet there is some serious celebrating when the summer finally comes along and that's the idea behind 'The Emperors' Ball.'"
The Emperors' Ball – Penguins
Rod Frederick
This Piece has been Signed by Rod Frederick