The Legend of Crow Butte (4-Piece Set)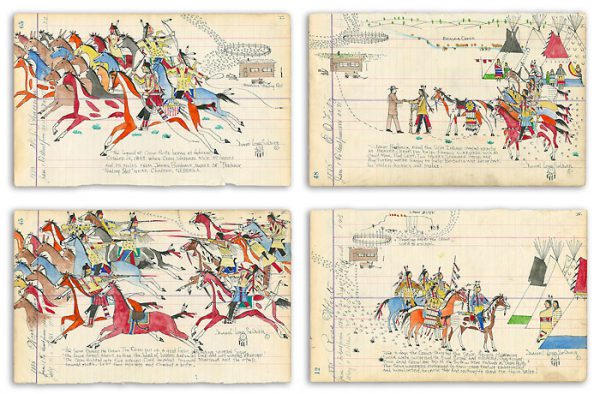 Long Soldier's delightful animated drawings are a retelling of a Crow and Sioux story known as "The Legend of Crow Butte." It's more "story" than "history" as there are several versions, from both the Native and whites (including one version from Nebraska pioneer memoirs and another account in "The New York Times" from May 11, 1890 that purports to be the true story as told by surviving Natives to one Judge E.S. Nesbitt). Most versions appear in agreement that there was a band of Crow warriors from reservations in Montana and Northern Wyoming that invaded the Sioux Reservation land, generally wrecked havoc.
In artist Long Soldier's telling, in October of 1849, James Bordeaux, of Bordeaux Trading Post, hired Sioux warriors to recover 47 horses and 35 mules recently stolen by the marauding Crow. The Sioux chased the Crow back toward the Pine Ridge area where the Crow split into several groups. Most disappeared but one Crow group ran up a butte, blocking the trail behind them but discovered too late that they were trapped at the top with a sheer cliff straight down. After three days the Crow band made ropes from their blankets and let themselves down the side of the butte, stole the Sioux horses and escaped.
Painted on ledger paper from the 19th century, artist Long Soldier's series both heralds back to 19th century Native American "ledger art" (paintings on sheets from traders ledger books) and also presents as a kind of 21st century Native graphic novel as the story is told with pictures and brief captions.
Framed in a series this Fine Art Print set will create a unique, affordable, historic and decorative statement.
The Legend of Crow Butte (4-Piece Set)
Daniel Long Soldier
This Piece has been Signed by Daniel Long Soldier