The Lighthouse Keeper (Original Painting)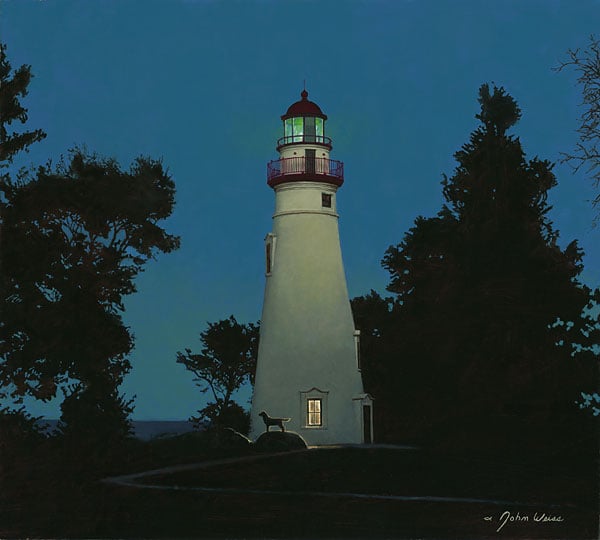 "Whether a small mixed terrier in an apartment, or a highly-trained working shepherd, dogs are instinctively protective and bent on being our guardians. I have always wanted to explore this theme in my artwork," says renowned artist John Weiss. "The other inspiration for this painting was one of my favorite escapes, the Marble Head Lighthouse itself. For over 30 years, this spot has been a place of comfort for me.
"On this particular evening I was waiting to study the effect of moonlight on the water. The sun had set and the land was quite dark, but the sky was still full of ambient light, as the stars and moon had yet to appear. I stood looking at this lighthouse that has flashed since 1821, guarding and directing the vessels plying the waters of Lake Erie. My thoughts went to Benejah Wolcott, the original lighthouse keeper, and what it must have been like on those lonely nights standing watch, guarding the guardian of the lakes.
"But today, who better to stand watch at the lighthouse than our loving protectors? Keeping his post ever vigilant, ever loyal, could there ever be a better lighthouse keeper than a dog?"
The Lighthouse Keeper (Original Painting)
John Weiss
This Piece has been Signed by John Weiss