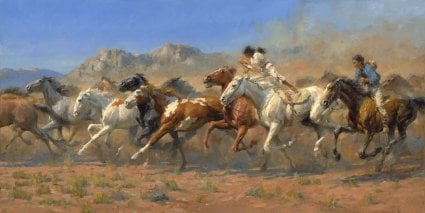 A True Story...
"We saw the fast-rising dust of a band of horses approaching us at an angle, and then, as they got closer, two riders were crowding them closely. One was a girl on a big white horse. As we watched, she raced alongside a sorrel that was crowding against other mustangs to get away from her. They were all going like the wind. Presently, when she got the position she wanted, she reached over, grabbed the sorrel's man, and slipped neatly from her seat onto the wild one's back. Her saddle was a sheepskin pad, held on by a surcingle to which were fastened two brass stirrups, the whole equipment weighing hardly more than three pounds.
"All she took with her when she made the glide was a hair rope about ten feet long. As the sorrel raced on at full speed, she threw a little loop over his head, tightened it, and then threw upward two half hitches around his nose. With only this 'bozal' (nose band), she had checked him, gradually brought him around, and was now guiding him. She was maybe fourteen years old, small and wiry, weighing about seventy pounds. Pony express riders used to change horses with spectacular rapidity, but theirs were broken. This bit of a girl was skimming onto the backs of mustangs that had never felt human hand or rope.
Jack Thorp, who had witnessed this, went to the camp of the people. There were six in the family. The father had caught horses using this method, but at different times had broken both arms and both legs. He was still light and active. The mother had been a 'mestenera' too. The son had once mounted wild horses on the run but had grown too heavy for this acrobatic feat, also for his horse to race up beside the wild ones. Two daughters, mere children, were herding about twenty horses. So, this is a way of life, a skill set handed down from generation to generation.
This painting was based on the account of a "mesenero" family, which was taken from "Pardner of the Wind", a book by N. Howard (Jack) Thorp in collaboration with Neil M. Clark, published by the Caxton Printers, Ltd., Caldwell, Idaho, 1945. This story was taken from pages 78-81.
The Mestenera
Andy Thomas
This Piece has been Signed by Andy Thomas