The Old Course (St. Andrews) – 14th Hole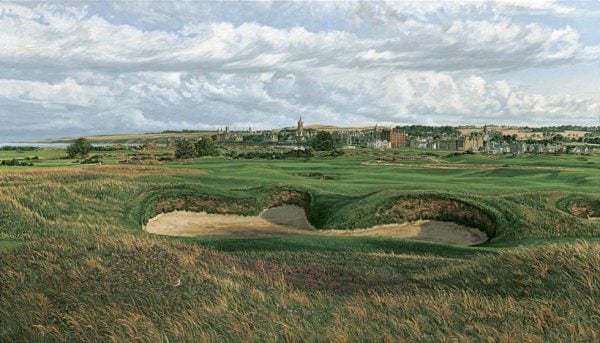 "It's a challenge to make a great painting and still depict a golfer's favorite scene, but my goal is to make any work of art I create transcend the scene depicted. When you look at a golf course, you have to see what players like about it. Then you have to see it as a landscape. When I begin painting, I try to incorporate everything that is great about that particular hole. My objective is to make it ideal - an ultimate dream hole.
"I try to get the best feeling of the hole by watching people play it. Contours are very important to the golfer and I try to achieve that on a high level. I want to get the feeling of the hole in all its detail-the flowers, the birds, even the animals - and then put it together. I try to do the ultimate, which is capture the player's point of view.
The Old Course (St. Andrews) – 14th Hole
Linda Hartough
(-38%)
This Piece has been Signed by Linda Hartough