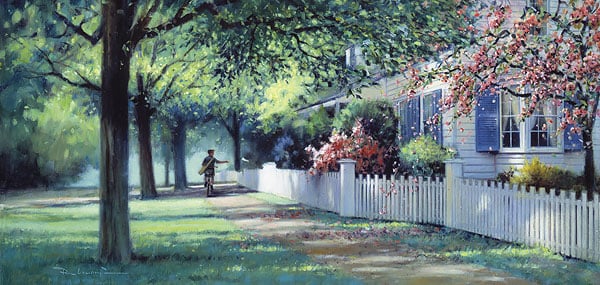 When I travel through my hometown, and all the towns of New England, there are certain places that prompt a special memory. I remember that, as a paperboy in my youth, I got up very early to fold the papers, put them in my sack, and hop on my old bike. I made sure all my customers had something to read with their breakfasts.
The streets were wonderfully wide in some places, but just about a car's width in others. I loved the hills... that went down. I also loved the the roads I took each day, and I even loved the change of seasons -- from the freezing winters when I braved the deep snow, to the spring with its bird songs and daffodils, to hot summers when I'd go swimming the minute I'd get back home, to the bright leaves lit the way every day.
I always loved those memories, and I hope you see why I share them so freely.
The Paperboy
Paul Landry
(-56%)
This Piece has been Signed by Paul Landry