The Way of the Ancient Migration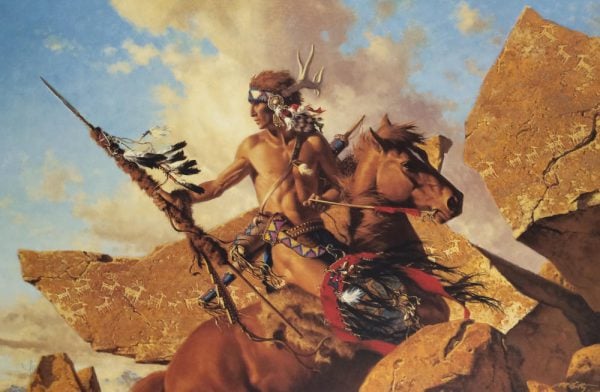 * This piece is accompanied by an initialed and correspondingly numbered petroglyph frieze print.
I suppose you could call this my elk painting. This Native American pauses before a petroglyph that pictures an elk migration. Because the rock is broken, he himself completes the image of the migration, in a way - he wears elk antlers, there is an image of an elk on his shield, and elk teeth hang from the shield.
I had to get in close to that elk migration petroglyph to make it work, so I could only portray a portion of the Indian and his horse. He's actually looking back in another direction, obviously thinking about something else, and just happens to be in front of this frieze of elk. It makes for an interesting frozen moment in time.
- Frank McCarthy
The Way of the Ancient Migration
Frank McCarthy
(-41%)
This Piece has been Signed by Frank McCarthy