Though Your Sins Be as Scarlet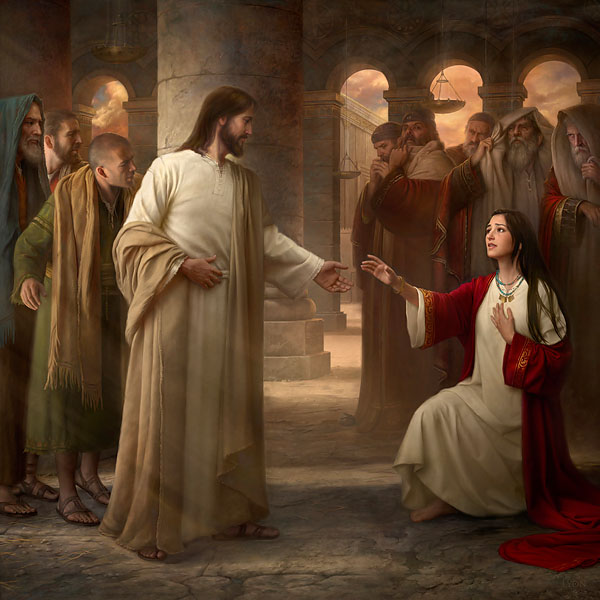 Forgiveness lies at the center of the gospel of Jesus Christ. He prepared the way for us to return to our Father in Heaven, through the atonement. So long as we repent of our sins, the path to Eternal Life is clear.
In this scene we witness a great act of compassion. The woman is condemned to death for her sins, but Christ in his wisdom, saves her from that fate and admonishes her to "go and sin no more." Symbolically, her robe is red, representing her sins, but as she reaches towards Christ, they are beginning to fall away. Her pure white robes are revealed beneath.
In contrast, the Scribes and Pharisees cling to their sins, symbolized by their heavy crimson robes. Full of pride and contempt, they recede to darkness, pulling away from Christ. The woman kneels humbly in the light before her Savior, and in return she finds salvation and feels the redeeming power and joy of the atonement.
"Though your sins be as scarlet, they shall be as white as snow."
Isaiah 1:18
Though Your Sins Be as Scarlet
Howard Lyon
This Piece has been Signed by Howard Lyon