Thunder Across the Plains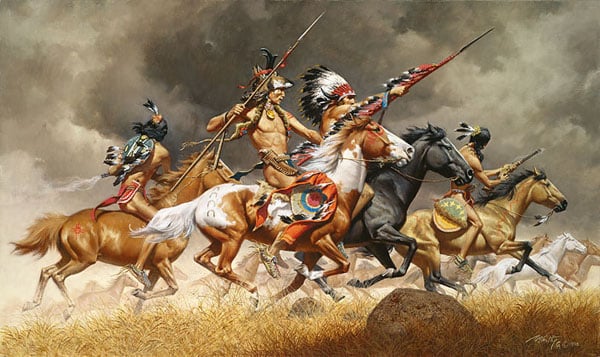 Frank McCarthy remains the unrivaled "Dean of Western Action Painters." No other artist has come close to capturing the dynamic power and drama of the Old West. Thunder Across the Plains contains all the hallmarks of a McCarthy classic: a frozen instant of charging warriors, rampaging horses and threatening skies. The mystical bond between the Plains Indian and his steed is conveyed as if it is the ultimate display of skill and courage.
On the endless prairie, horses were the most valued possessions. In battle, or on the hunt, a strong and fast horse was often the difference between life and death. These braves stampede a plundered herd across the grasslands toward their distant village where an evening of celebration will be filled with dance and stories of cunning and daring.
Thunder Across the Plains
Frank McCarthy