Way Way Up High Over Pad 39A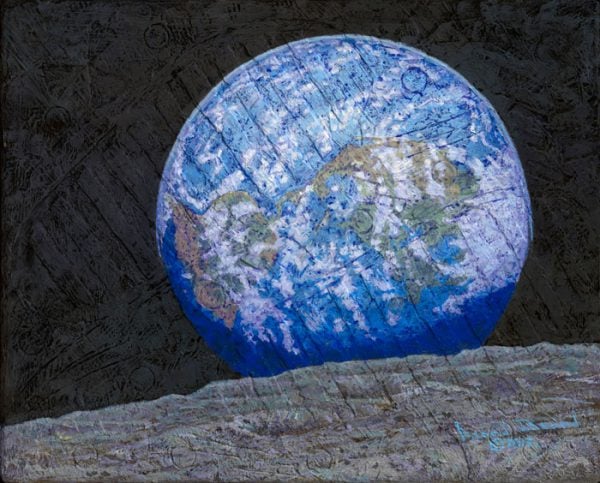 Well, here we are, seeing our first Earthrise ever! It is hard to believe Pete Conrad, Dick Gordon and I are 235,189 miles from home. We had lifted off from launch complex 39, Pad A, Cape Kennedy, Florida in the middle of a violent thunderstorm, just three and one half days ago and there are at least two very excellent reasons why it does not seem possible we have come this far, this fast.
The first excellent reason is that we were traveling at speeds that are difficult for most humans, including us, to really grasp. For example, after a brief eleven-minute rocket ride, we were in Earth orbit traveling at 17,431 miles per hour. That is about 290 times faster than the 60 miles per hour speed limit we drive our cars here on Earth. Pete, Dick and I had been navy test pilots and flew high performance aircraft at high mach numbers from time to time, but mostly we flew around at about 500 miles per hour or so. Now, that is nothing to complain about, yet it is only one thirty-fifth of our Earth orbital speed. But to fly to the Moon, we had to start up our launch rocket's third stage again to add significant velocity. To be precise, we had to get going 6,719 miles per hour faster. This initial velocity, some 24,150 miles per hour, would allow us to coast to a point close enough to the Moon so the Moon's gravity would become dominant and we would begin to fall towards the Moon rather than back to Earth.
The second excellent reason is that there were no sign posts along the way. As we sped along, we did not zip past any cities, towns, clouds, other spaceships, or anything else, for that matter. Except for the first few hours after leaving Earth orbit, the Earth did not seem to move away or get smaller, and the Moon did not seem to move toward us or get larger. If we waited an hour or so and looked out again, the Earth would look smaller... maybe, and the Moon would look larger... maybe.
What a view! To think everyone I ever knew, saw on television or at the super bowl, was down there on the skin of that beautiful, colorful sphere. It does not seem possible. There is just not enough room and folks on the bottom will surely fall off. I find it curious that I never heard any astronaut say that he wanted to go to the Moon so he would be able to look back and see the Earth. We all wanted to see what the Moon looked like close up. Yet, for most of us, the most memorable sight was not of the Moon, but of our beautiful blue and white home, moving majestically around the sun, all alone in infinite black space.
Way Way Up High Over Pad 39A
Alan Bean
(-41%)
This Piece has been Signed by Astronaut/Artist Alan Bean