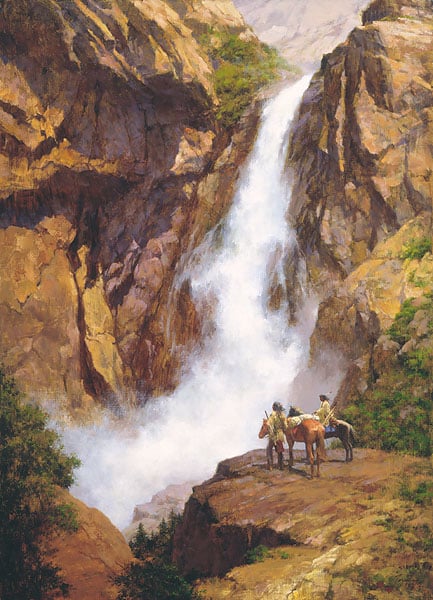 To the Native American, a spiritual force was the source of all life and everything in nature had a soul, or a spirit, independent of its physical being. Their entire world was connected spiritually, with the physical and the mystical living side by side. This spirituality was the fundamental nature of the Plains Indian and the expanse of the West and the grandeur of its landscape only enforced this notion.
"It is important to show the American Indian as he appears in his natural surroundings," says Howard Terpning. "He lives with Mother Earth, and his spirituality is bound to his environment. Many of my paintings are inspired by something in nature. The thing I look for in a landscape is how it can be dramatized to the best advantage in the painting."
Many of Terpning's most revered paintings focus on the wonder, admiration and respect the Native Americans held for the land in which they lived. The Force of Nature Humbles All Men, With Mother Earth and On the Edge of the World all explore the introspective power nature has over man. Where Spirits Dwell takes that idea one step further by presenting, in scale, the majestic scope of the land in relationship to man.
Where Spirits Dwell
Howard Terpning
(-34%)
This Piece has been Signed by Howard Terpning