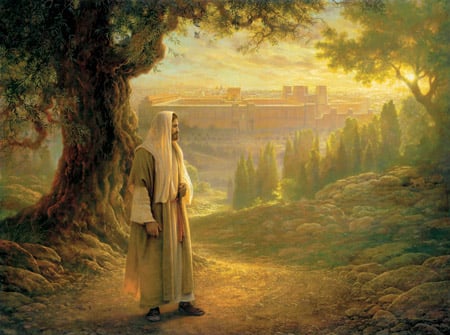 Choosing to follow the Lord has never been the easiest path that one can take, in this or in any age. It means forgiving when we are tempted to be unkind, helping when it would be easier to turn away, and sometimes going it alone rather than going along with the crowd.
Jesus realized this, and when a scribe said to Him, "Master, I will follow thee whithersoever thou goest," Jesus forewarned him. "The foxes have holes, and the birds of the air have nests; but the Son of man hath not where to lay his head" (Matthew 8:19-20).
History is filled with examples of those brave souls who sacrificed much for their beliefs. While the true believer might not always find favor with his fellow man, he will find it in heaven, for the Lord also promised, "If any man serve me, let him follow me; and where I am, there shall also my servant be: if any man serve me, him will my Father honour. (John 12:26).
Wherever He Leads Me
Greg Olsen
(-40%)
This Piece has been Signed by Greg Olsen