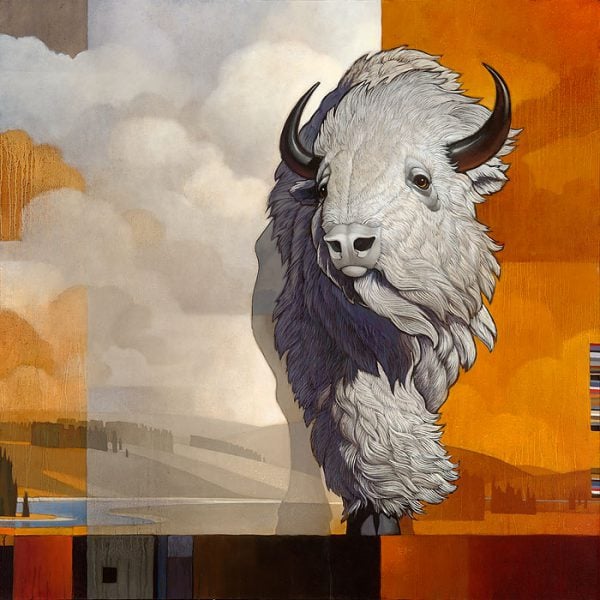 Grounded in realism, fused with abstract passages and radiating the light of an inner spirit, the contemporary wildlife art of Craig Kosak presents a world in balance.
"To the Lakota, a white buffalo is a harbinger of harmony and peace in troubled times," relates Kosak. "'White Bison of the East' is the first in a series of four paintings, each covering a point of the compass, that draw their inspiration from the legend of the White Buffalo Calf Woman. On her first visit to the Lakota she taught them seven sacred ceremonies, songs and their traditional ways. She said she would return to purify the world if it became too troubled. A sign of her arrival would be the birth of a white buffalo. I was thinking about the fractious and parochial nature of politics today and how nice some accord between all parties would be. 'White Bison of the East' is my way of signaling that it is time for some of that peace."
Kosak's foresight to bond mythology and legend with modern spirituality is enhanced by the flawless blend of abstract and realistic painting in his compositions. "It took years to find my voice." he says. "I combine the realistic observations, impressions and feelings of an outer world, the physical world through which we travel - with an inner world of self-discovery, the abstract and rule breaking part of my art. I use this inner vision to idealize, fantasize and anthropomorphize these insights."
Kosak does not juxtapose his geometric and illustrative elements, rather he merges them together through layers of glazes, patinas and textures. Each painting features an "edge ribbon." The edge ribbon will have all the colors that are in the painting, a band added each time a new color is used. The edge ribbon is a record of the painting coming into being.
"My paintings are inspired by the natural world and the human condition. I use myths and legends to facilitate an understanding of ourselves and provide perspective on how we fit into the universe at large. Most importantly I want to show the bond we have with other living creatures that share our planet."
White Bison of the East
Craig Kosak
This Piece has been Signed by Craig Kosack