Winter Spirit – Gray Wolf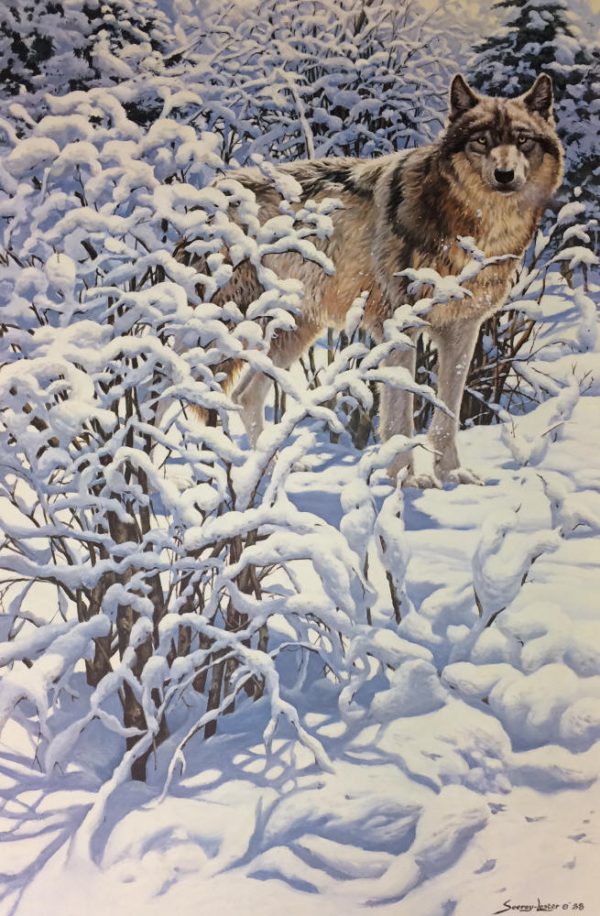 As western man populated new regions in the northern hemisphere, he invaded "wolf country." The domestic livestock he brought with him was vulnerable to wolf attacks and thus helped establish an unavoidable conflict between man and beast. The wolf, whose territory once ranged throughout the continent, is an intelligent, strong, sensitive animal with complex social behavior and lasting family ties. As a result of its clash with man, the wolf has been exterminated from all major agricultural regions and has become a dwindling part of North America's natural wilderness.
Even though it qualifies as an endangered species, the wolf only has governmental protection in a few national parks in remote northern territories. Although there is little conflict with livestock or game interests in these parks, the size and nature of these areas make enforcement difficult. The fact that the wolf has been able to survive under these conditions at the same time that it is subjected to the natural forces dictated by its harsh environment certifies the wolf as a true winter spirit that has earned its rightful place on earth.
In my painting, I wanted the wolf to be standing alone as a defiant symbol of its breed. To emphasize this, I have the wolf staring directly out from the canvas with an intent gaze that fixes upon the observer from whatever angle the painting is viewed.
- John Seerey-Lester
Winter Spirit – Gray Wolf
John Seerey-Lester
(-61%)
This Piece has been Signed by John Seerey-Lester