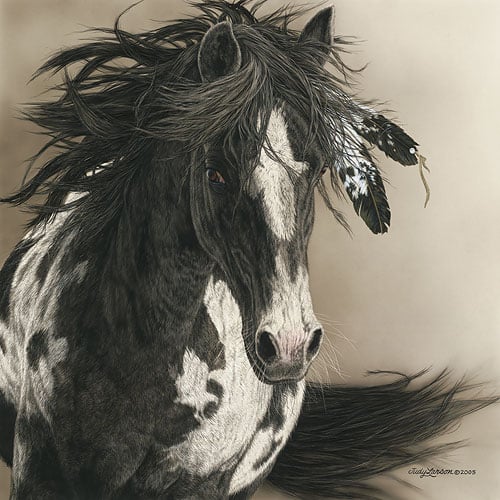 The word freedom is a powerful, emotionally charged word, evoking ideas of independence, free will, opportunity, and inalienable rights. Freedom enables change, learning, understanding, rescue, and salvation. The very nature of the word, "freedom," however, implies that there are those who are not free.
The eagle images hidden in artist Judy Larson's painting, With Freedom For All, symbolize her deep desire for freedom in America, not only for its citizens, but also for its wildlife. The single, proud and wild horse symbolizes the millions of other horses that once roamed our great land. And, the eagle feathers refer specifically to a time when Native Americans lived freely with pride and purpose.
Freedom is not yet secured for all. At this very moment, an all out war is being waged against wolves. New legislation has already been signed that opens the door to the slaughter of wild horses and burros. And, tragically, for many Native Americans, they keep their heritage silent.
Let there be freedom for all.
With Freedom for All
Judy Larson
This Piece has been Signed by Judy Larson